You know, there's more than one way to skin a ca— I mean, hang artwork.  I hope I proved that in our last foray into Artsy Dwelling!  Be a rebel.  Don't hang that art at all!  Go all crazy and casz.. just let it lean.
Leaning = layering.  If you keep your artwork relegated to the walls, you're holding it at a distance.  You know, like that moldy fruit you found in the refrigerator.  But living with art should be about living with it, having it truly be a part of the way we interact in our personal space.  Leaning brings it in close.  We can study it, pick it up and touch it, live with it in ways we can't do when it's nailed to a wall.
Check out some of my favorite ways to style leaning artwork–
1 | On a ledge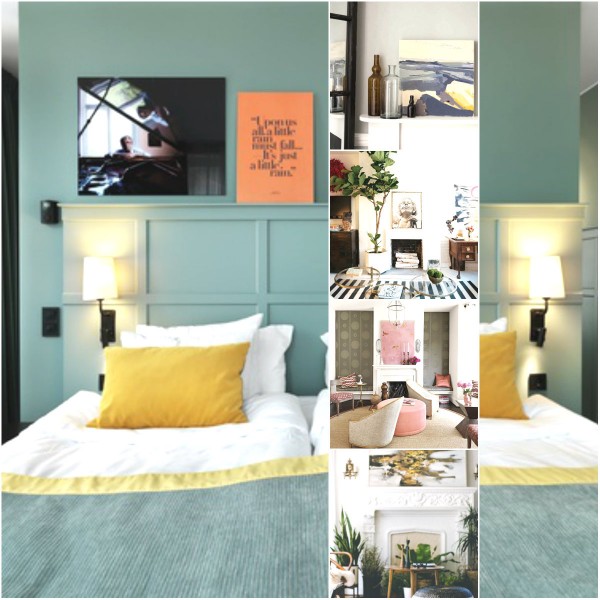 found here here here here and here
Take advantage of those architectural details as a natural resting spot for artwork.  It's kind of Decorating 101 to put artwork above a fireplace, but leaning it on the mantle, especially when layered with other pieces creates a visually rich display that's easy to change up with the seasons or just on a whim!
2 | On a piece of furniture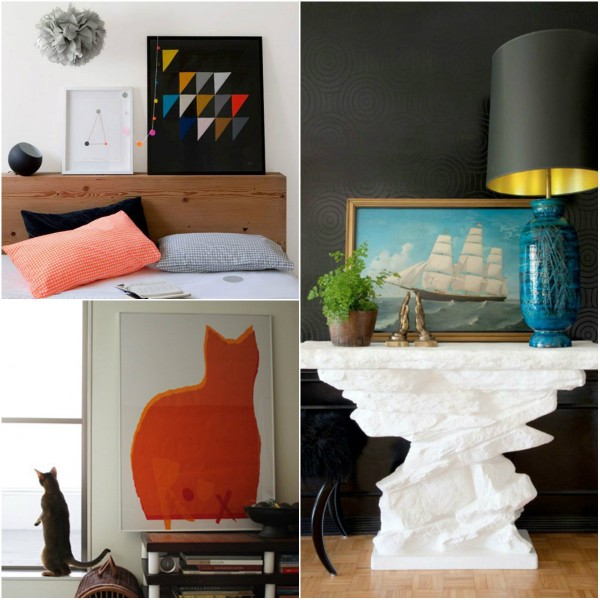 Same rules apply for furniture.  Wait, forget that.  There are no rules!  Big art, small art, doesn't matter, as long as it makes an interesting impact and puts a smile on your face.  It all goes back to that layering thing.  Leaning artwork connects itself better to the other objects in your vignette when it is sitting on the same surface.  It's like bringing your artwork into the half-time huddle.  Now he feels included!
PS– If you're gonna lean artwork on your headboard, might be a good idea to secure the back with a little 3M velcro, you know just in case things get a little, shall we say frisky?  Oh come on, you know you were thinking it!
3 | Behind a piece of furniture!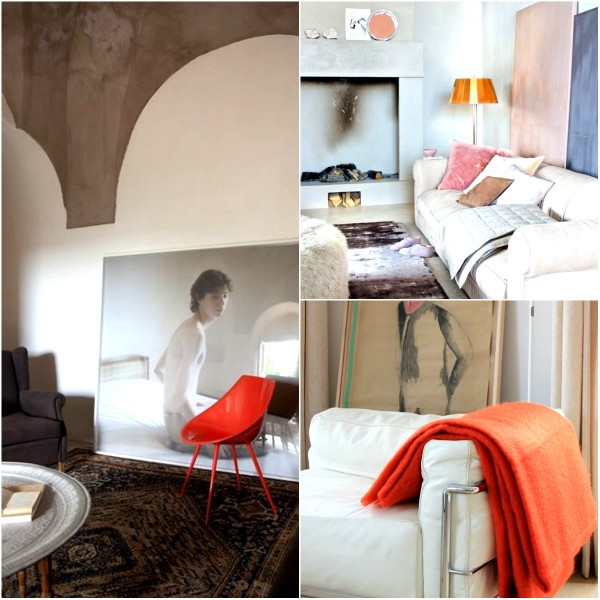 My favorite rule to break.  Used to be, no art lover would dream of putting artwork, which let's face it, we probably paid a lot of money for, even partly hidden behind a piece of furniture.  But that little artsy game of peek-a-boo leaves me wanting more!
4 | On the floor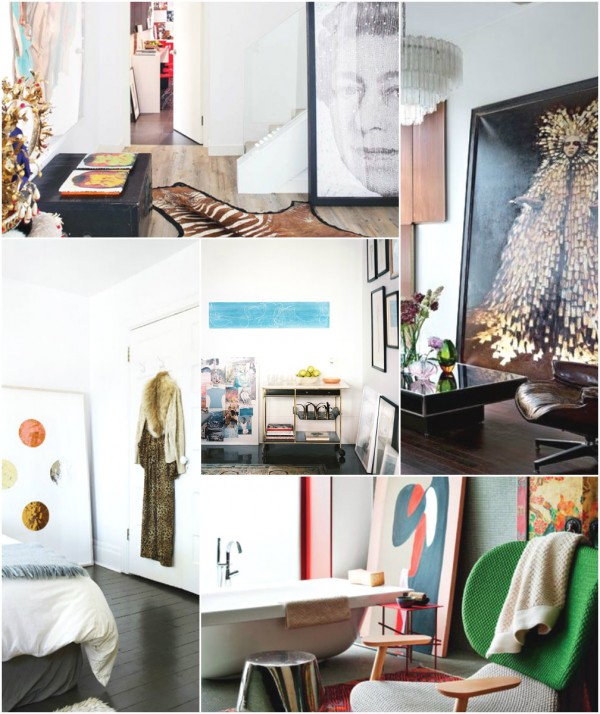 found here here here here and here
Maybe you have the perfect spot for a piece of artwork, but hanging just isn't practical.  Just lean that baby on the floor.  The perfect solution especially for super oversized pieces of work that it would take an army to hang!  Or for when we want a splash of color but don't want to commit to holes in the wall.
Of course, it should be noted that leaning artwork, especially on the floor and behind furniture isn't the idea solution if you have small children, rowdy teenagers ( ok, really any kids at all ) or clumsy husbands.  😉  Do you have any artwork leaning around your house?  Share a photo over on the Artsy Forager Facebook page, I'd love to see!
All image sources linked above.