I don't usually post on Sundays, but I wanted to pop in and make sure all the artists who follow Artsy Forager knew about this!  I was so thrilled and excited to be a part of the Thriving Artist Summit earlier this month, a free online conference full of amazing advice, tips, and inspiration for artists.  But here's the best news– all of the interviews are being replayed, now through December 31st!  So if you missed out on any or just want to listen again, head on over to the Thriving Artist website to gain access if you aren't already registered.
artmuse.com founder Bonnie Glendinning gathered together 20+ industry experts who, like me, are all on a mission to help artists not just survive, but THRIVE!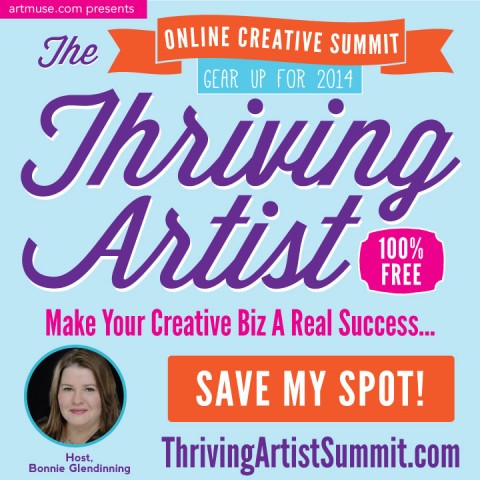 I shared my expertise in blogging and social media at this powerful summit and I hope to help you learn how to make these easy and accessible tools work for you!
Find out more right here: http://thrivingartistsummit.com/lfrenz
During this special community summit you will discover how to:
Make Your Creative Biz a Real Success
Build Your Brand for Your Ideal Buyers
Price for Real Profit and Growth
Increase Your Sales with Marketing, PR, and Social Media
Diversify into Licensing, Wholesale, and Direct-to-Consumer
Get Into Galleries, Shows, and Raise Project Funds
I'd love for you to experience this yourself and JOIN US FOR THIS FREE summit.
The Thriving Artist Summit
With Lesley Frenz and Bonnie Glendinning December 18 through December 31, 2013 Approximately 1 hour, replay available to registrants
SECURE YOUR SPOT NOW: http://thrivingartistsummit.com/lfrenz