I hope you guys are as into the lovey-doveyness as I am.. if not, maybe this will help get you into the mood come Friday!  The work of this month's featured artist, Jenny Brown, has always reminded me of old-fashioned Victorian valentines.  Mr. Forager and I aren't ones for spending lots of money on Valentine's Day, we prefer to just take a little extra time and attention with each other.  What could be more romantic than simply spending an evening absorbed in all things sensual and gooey-eye inducing?
Here are a few ideas inspired by Jenny's artwork if you're having a case of romance block–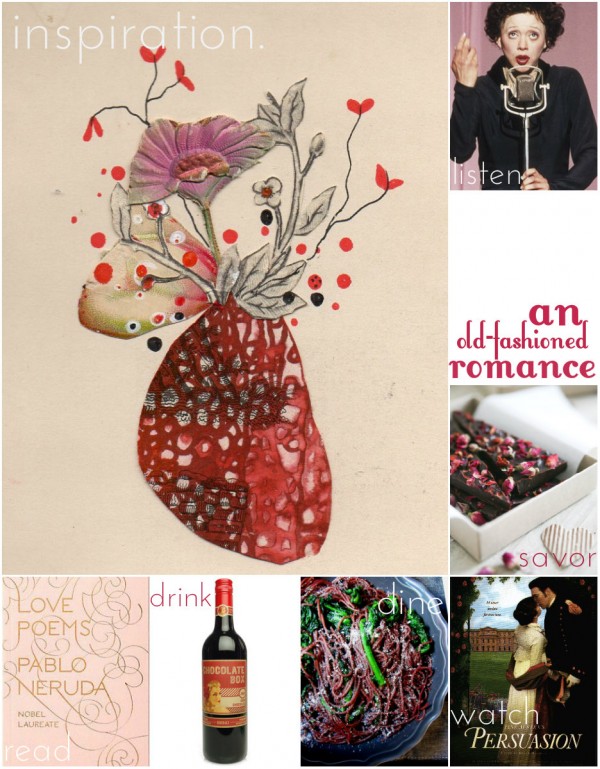 listen | edith piaf.   The French singer will lull you into the most deliciously romantic mood.  It is impossible to not get a little weak in the knees when she sings La Vie En Rose.  If you use Pandora, just create an Edith Piaf station and you'll have mood-setting music all evening long.
read | love poems by pablo neruda. Nobel prize winning poet Pablo Neruda's writings are filled with intensity and longing.  A little dark, maybe, but passion is rarely all goodness and light.
dine | red wine pasta. Everything is better with a little wine.. or a lot of wine!  Red wine pasta is made by cooking your choice of noodle in an entire bottle of wine instead of water.  The result is a surprisingly light, richly colored dish as pleasing to the eyes as it is to the tastebuds.  And of course, you can always re-enact this scene.
drink | chocolate box dark chocolate shiraz Why should the noodles have all the fun?  Mr. F and I found this shiraz consistently smooth and rich and velvety and yummy.  We bought it all the time when we were in Florida.  We've yet to find it in the Northwest and believe me, I've looked.  If we do come across it, you can bet I'll snatch up a bottle.  Or ten.  And the best part?  Totally affordable.  Come to mama.
savor | rose petal dark chocolate Roses are a lovely momento, but sinful and seductive dark chocolate covered in tea roses?  Even better.
watch | persuasion There is no shortage of romantic films to put you in a lovey mood.  But the 1995 film adaptation of Jane Austen's Persuasion remains one of my personal favorites.  A tale of a love denied and rekindled, its many sea and sailing references are the perfect complement to Jenny Brown's romantic sea creatures.  And who could resist a love letter that includes the phrase.. "you pierce my soul".  Ah, the fire of suppressed longing in Regency-era England!
Diamonds and over-priced meals out are nothing compared to a little old-fashioned artsy inspired thoughtfulness and meaningful romance on the big V day.  How are you planning to keep the home fires burning on Friday? 😉
All image sources linked above.