While we are getting settled into our new temporary Eureka home, what we want in our eventual forever home is heavy on our minds.  While Mr. F aka Mr. Practicality is thinking of square footage, alternative power sources and cost, I tend to focus more on how the space will feel and how we will live in it.  A home that is a peaceful retreat, yet full of life and creative energy.  The mix of warm neutrals, light pales and bright shots of color in Untitled by this month's Featured Artist Erin McIntosh, feels like the best of artsy spaces– inviting, yummy colors and patterns and spots of cool serenity.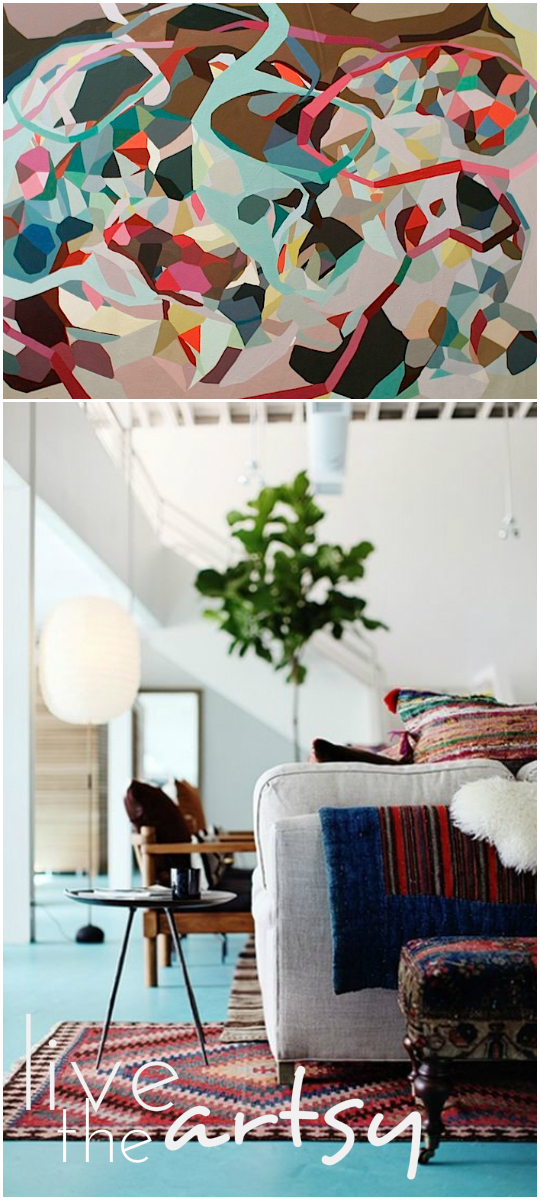 art | found here
interior | found here
Now to design a space how this painting feels– this interior featured on Apartment Therapy  feels like the perfect translation.  Though this series by Erin is based in geometric shapes, the  atmosphere remains organic and flowing, never hard and stagnant.  There is warmth to be found in the natural woods and nubby textures in the room and the pattern on the rug & other textiles calls out to the geometrics in Erin's painting.  My favorite element, the light blue concrete floor, provides a stream of lightness and translucency, just as shots of the same blue  do in Untitled.  Oh how an Artsy could live here!
To see more of Erin McIntosh's work, please visit her website!  Want to see more from the Live the Artsy series?  Check out the archives!