Judging from the blog's title & if you've been reading for awhile, you've probably guessed that Mr. F and I are the outdoorsy types.  We both thrive on time spent among the quiet beauty of the outdoors, whether surrounded by snow-capped mountains or digging our toes into the black sand of Northwest beaches.  I'm finding artistic inspiration in nature for my own series of work, so why not find it in the work of other artists, too?  Often when I see an artist's work, my mind connects it to the memory of a place I've been or a detail observed or sometimes, an outdoor scene will call the artist's work to mind.  It's the whole chicken vs. egg thing, but this time, with art and nature.
So with this post, I'm launching a new series, The Artsy Nature, in which I pair a photograph from our traverses in the great outdoors with a piece of artwork.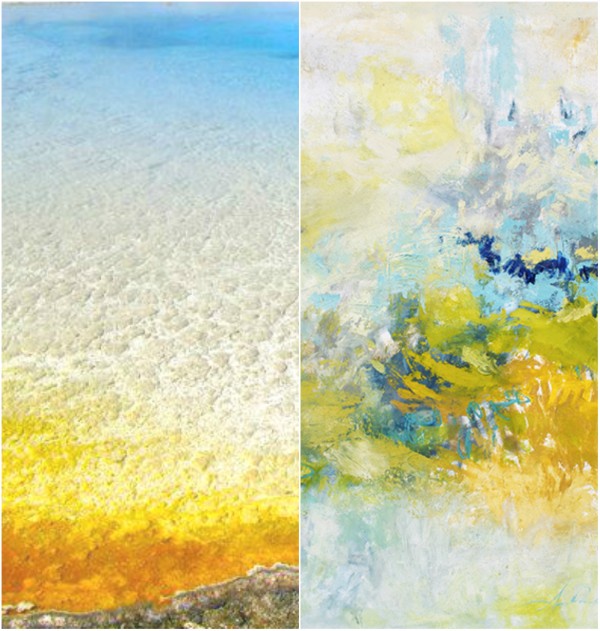 photo | spring at The Black Sand Basin, Yellowstone National Park by Artsy Forager
art | Purpose by Amy Donalson
One of my absolute favorite features in the wondrous beauty that is Yellowstone were the geysers and hot springs.  Algae and micro bacteria create gorgeously saturated coloration in the most heavenly palette.
Nature is the most spectacular of canvases, isn't it?  Look for more The Artsy Nature posts coming your way!
Photo by Artsy Forager, art image credit linked above.