While Mr. F and I were reluctant desert-dwellers and are sure to steer clear in the summer months, I'll be the first to admit that spring in the desert is absolutely enchanting.  What has been dry and dormant for months on end comes to life with color!
This post is the second in a new series, The Artsy Nature, in which I pair a photograph from our travels and forays into the wild with a work of art in which I find a reminder of that moment.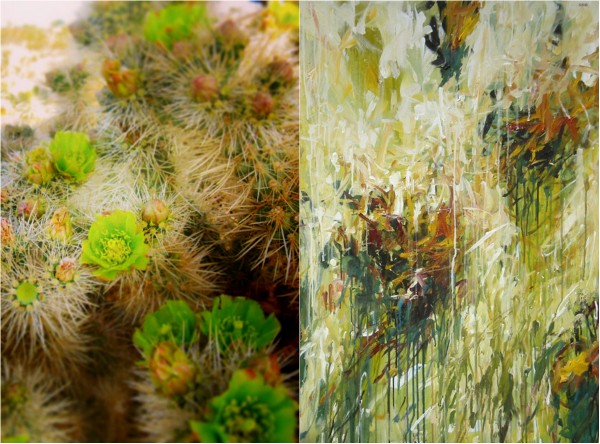 photo | cholla blooming in Joshua Tree, CA
art | Wildflowers 1 by Karen Silve
Though I have no idea the original inspiration for Karen Silve's Wildflowers 1 ( cropped above ), the palette of yellows and greens instantly takes me back to our desert spring.  It was a time when we knew our own arid wandering would soon come to end and life was filled with dreaming of new beginnings.  That spring was also a time of renewal for both of us, I remember us both brimming with energy and creativity, just as Silve's painting is awash in lively movement.
Check out The Artsy Nature archives for more in the series!
Photo by Artsy Forager, art image credit linked above.