Whenever Mr. F and I are away from the coastal Northwest for a long period of time, I find that what I miss most is the mossy trees and fern covered forest floors.  These "Muppet trees", as I like to call them, inhabit the moist woods in the Pacific Northwest and in this edition of The Artsy Nature, after spying Saline. Lumi. Breath., a gorgeous new painting by Jennifer JL Jones, I was immediately transported back to one of the loveliest spots in the Northwest.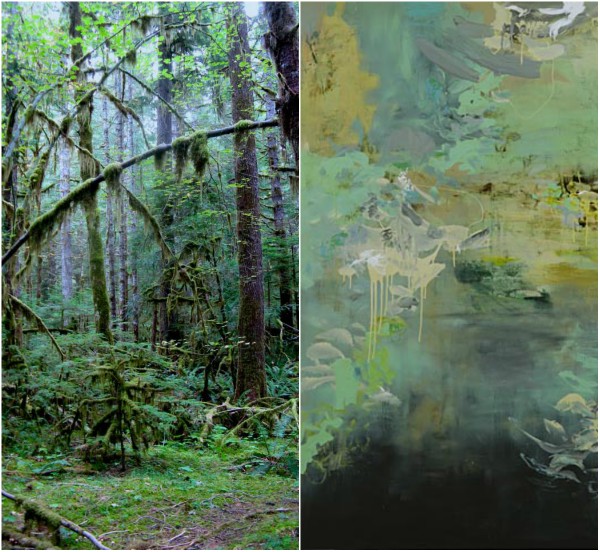 photo | staircase hike, olympic national park, wa
art | saline. lumi. breath.( detail ) by jennifer jl jones, mixed media on wood, 72×72
On a foggy, cool morning in the early Fall of last year ( before the government shutdown closed access to the National Parks ), Mr. F and I began a short little jaunt into Olympic National Park that would be one of our favorite hikes of 2013.  Not strenuous, no giant, sweeping views of snowcapped mountains, just the quiet hushed lushness of the temperate rainforest.  Clouded skies cast a purplish light into the woods, only the dripping of the dew from the leaves and the fall of our feet on the mossy floor to be heard.  If big mountains are outdoor cathedrals, woods like these are tiny chapels.  Cozy and unassuming, you are left to ponder not on the grandeur of creation, but on its ever closeness.
More of Jennifer JL Jones' work can be seen on her website and, if you're in the Atlanta area, she opens a solo show, SECRETsaline, at Alan Avery Contemporary Art this Thursday!
See more forays into The Artsy Nature here and check out my guest Artsy Nature feature on artist Jessica Zoob's blog!
Photo by Artsy Forager, art source linked above.