December is here!  Mr. F and I are back living in Idaho ( Moscow, ID to be exact ) for the next three months.  As we were driving up, we were treated to a spectacular display of snow juxtaposed against the evergreens, rocks and rushing waters.  These pieces by this month's Featured Artist, Casey Matthews remind me of that wintery palette I love so much.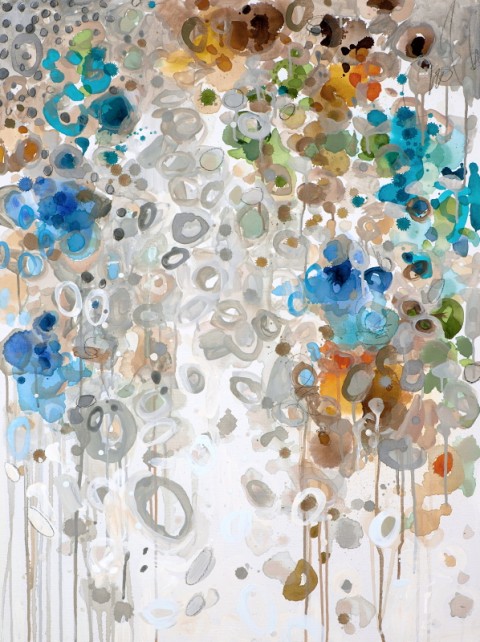 I've been in love with Casey's work for a long time and she was one of the first artists I featured on Artsy Forager.  Her work is full of luscious texture and lots of delicious little details that don't always come through in digital form.  Orbs and circles are a large part of her visual language and some of her latest work, she's exploring a whirlpoolish composition in addition to her characteristic floating shapes and drips.  And I'm especially enamored of the way she is overlaying linear elements, adding yet another intriguing dimension.
Casey lives in North Florida, so its pretty doubtful that her inspiration would have come from the snow and evergreens of Northern Idaho.  Yet these pieces have much of the atmospheric feel I was imagining as we drove through snow covered canyons and delighted in patches of white dotting the rocks along the river.  Isn't it amazing how an artist's work can resonate your own imagination?
I hope you'll mosey over to Casey Matthews' website to take a look at more of her work, as well as heading to the Artsy Forager Facebook page to see the gorgeous piece gracing our cover for this month, plus an album of some of my latest favorites!
If you'd like to see Casey's work in person, you can do so at a number of representing galleries, a list can be found here.  If you're in North Florida, Casey will be showing work at the Ponte Vedra Inn & Club during the month of December, with a holiday reception on December 12th.  Or if you happen to be in the Atlanta area, her work will be a part of the annual Masterpiece & Its Minis show at Gregg Irby Fine Art, where you could snatch up a sweet smaller Casey Matthews original, what an amazing gift one would make!
All images via Casey Matthews.