Some galleries, the most successful and long lived, find their sweet spot and flourish.  Stellers Gallery in Ponte Vedra Beach, Florida, quietly and consistently shows and sells the work of emerging and established artists in their space just steps away from the Atlantic Ocean.
But this isn't your typical "beachside" gallery.  Since 1999, owner Hillary Tuttle, has cultivated a selection of sophisticated work that compliments, not caricatures, the local landscape and culture from local, regional, and national artists, including this month's Featured Artist here on Artsy Forager, Jennifer JL Jones.  The wide range of styles and consistence of excellence among the work in the gallery lends it appeal across the generations, creating a diverse range of collectors.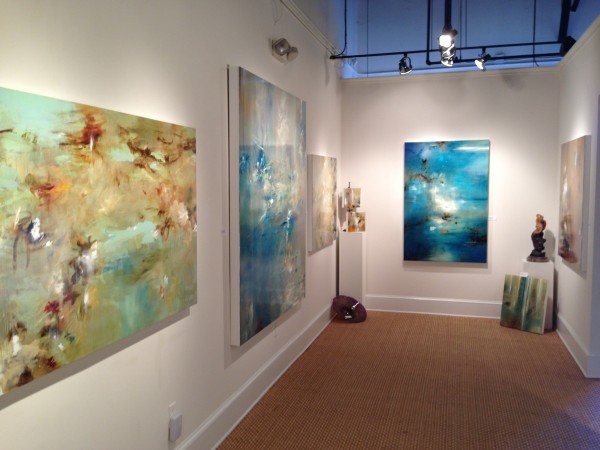 [ the work of Jennifer JL Jones at Stellers Gallery at Ponte Vedra Beach ]
Tonight, Stellers celebrates its original four artists with an artists' reception to open Synergy, an exhibition dedicated to the work of these very different artists, abstract painter Jennifer JL Jones, realist landscape painter Henry Von Genk, figurative and still life artist Laura Lacambra Shubert, and whimsical figurative painter Enrique Mora.  Beginning with these four seemingly incongruous artists might have seemed like a gamble, but it shows just how well Tuttle knew who her collectors would be, appealing to a wide and varied assortment of artistic tastes.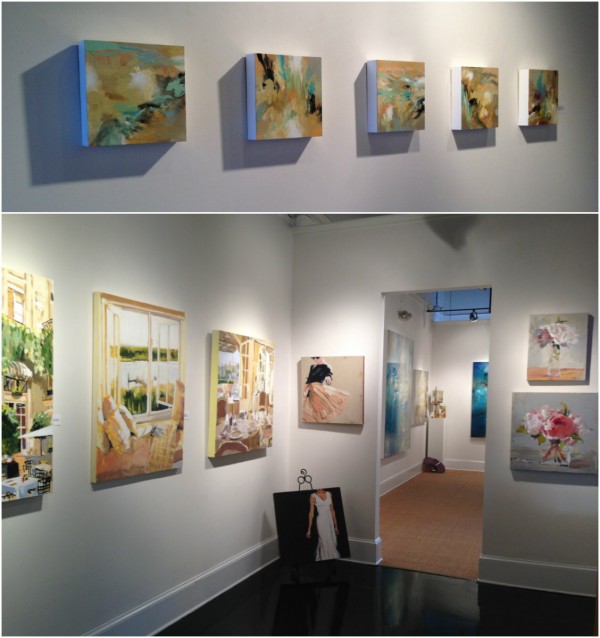 [ work by Laura Lacambra Shubert & Jennifer JL Jones ]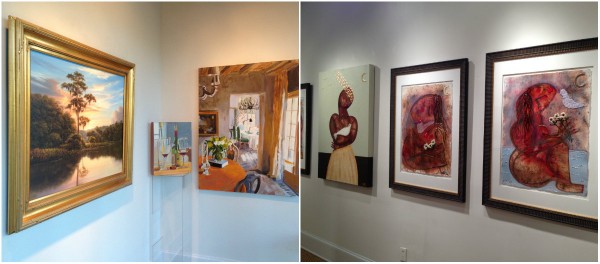 [ work by Henry Von Genk, Laura Lacambra Shubert & Enrique Mora ]
Each artist's work, though very different in style and approach, represents the magic of beach life– the wonder of the light, the calming peace of the landscape, the quiet lifestyle, and of course, the wind in your hair fun of it!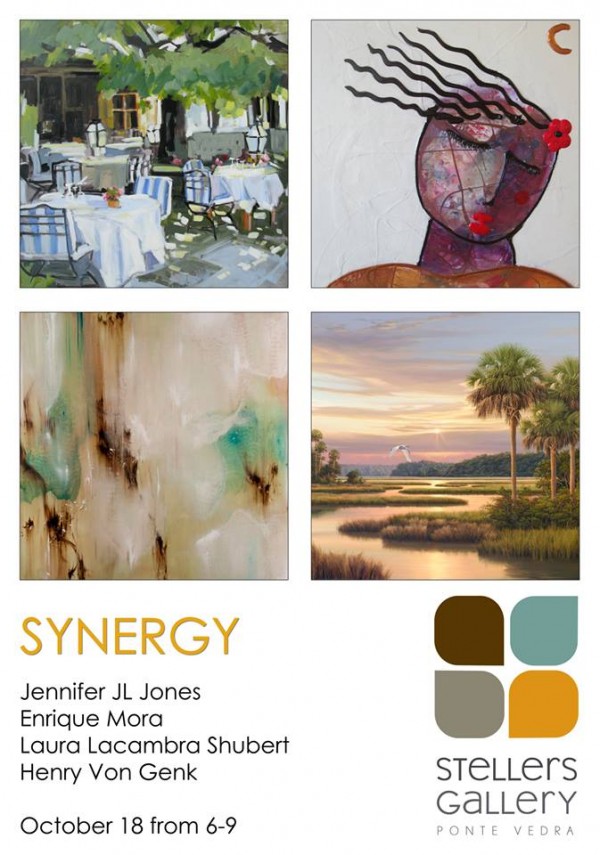 If you are in the North Florida area, can you think of a better evening out than taking a drive out to the beach to see some beautiful work and meet these amazing artists?  And while you're there, congratulate Hillary & the Stellers team for an incredible journey.  You can see more from these artists and all the artists Stellers represents on their website.
All images via Stellers Gallery.