I am forever in awe of how interconnected we have become through the glory of the inter webs!  Case in point– I receive an email from artist & designer Megan Auman, telling me about her new line of gorgeous scarves based on her paintings.  I think to myself, Artsy, these are awesome!  But those paintings look so familiar.. Sure enough, a quick check of my Pinterest boards reveals that I'd recently pinned one of Megan's paintings for a future Artsy Forager feature.  Turns out I'd seen her work through Jaime Derringer's Instagram feed and well, the rest is internet history!
I've made no secret of my scarf obsession.. my friends and family know it well!  And scarves that begin life as abstract paintings, thereby combining two of my absolute favorite things?  Winner, winner, warm & artsy neck!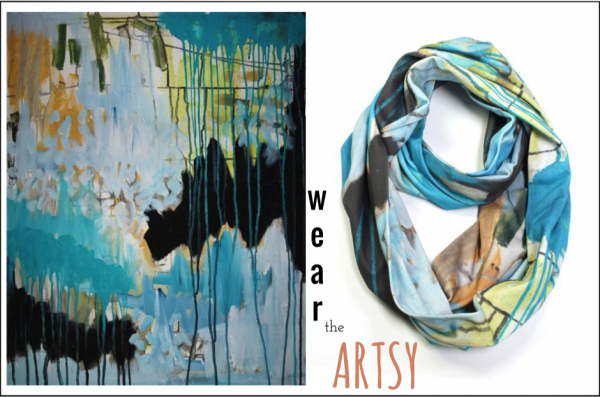 Auman's richly colored abstract paintings provide the starting point for these lovelies.  The work is then digitally printed onto soft organic cotton ( bonus! ) and hand sewn in her Pennsylvania studio.  Each scarf is made in small batches and available in limited quantities.  Truly works of wearable art!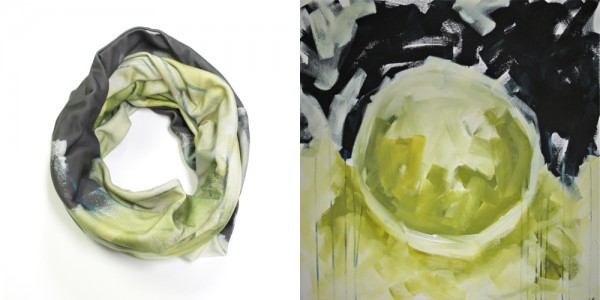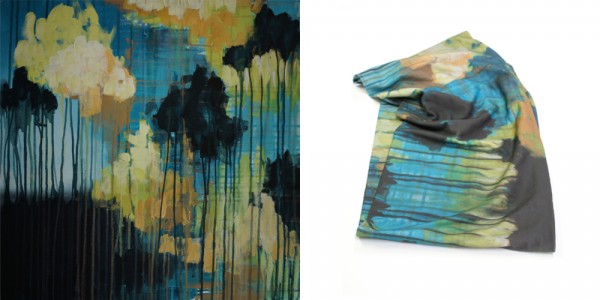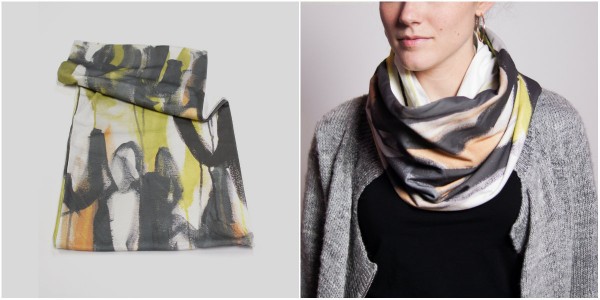 Megan Auman scarves are available for purchase in her online shop here.  And Megan is generously offering a special FREE SHIPPING offer to Artsy Forager readers!  Just enter the code ARTSY at checkout, but make it fast because this offer ends at midnight (EST) on Sunday 10/27.  Be sure to check out Megan's other artsy wares– gorgeous art pillows, jewelry, and especially these ingenious cozy/cuffs!
All images are via Megan Auman.