Once upon a time, wood paneling was the epitome of dated and dreary.  Think back to that 70s basement.. yikes! But wooden wall treatments are seeing a resurgence lately and they are coming back stronger and more artful than ever!  You may love the look of these modern paneling interpretations, but not sure how to incorporate art on wood walls?  There are as many ways to style a wood paneled room as their are trees in the forest.  Since painting over wood gives you basically the same canvas as a painted wall and I like a challenge, we're going to focus on art on wood walls with a more natural finish/stain.
Here are just a few ways you can go–
1 | beachy keen, jelly bean.  Lightly stained or pickled wood lends the perfect bleached out style to a coastal setting.  If your taste in art tends toward a pastel palette, keep the softness and natural calm going.  Pieces like these by Leora Armstrong with a strong horizontal vibe recall that perfect spot where the sky meets the sea.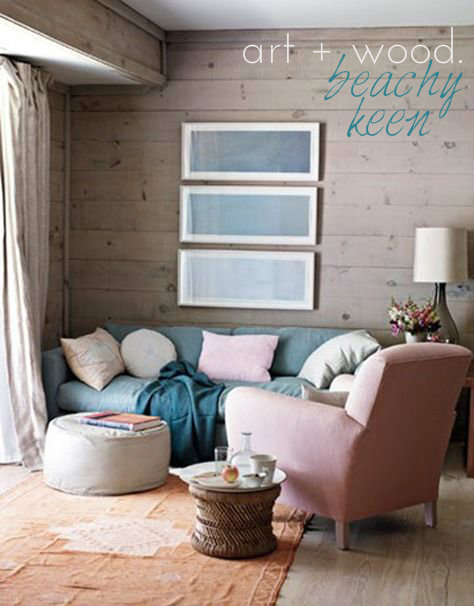 image found here
2 | mid-century glam it up.  Love Mad Men?  Live for Saturday afternoons spent combing vintage shops and thrift stores for Mid-Century treasures?  Secretly want to wear a pencil skirt and heels while serving cocktails?  Large cut wood panels in a uniform stain are the ideal backdrop for some MCM goodness.  Abstract artwork in earthy tones complete a room Don Draper would be proud of.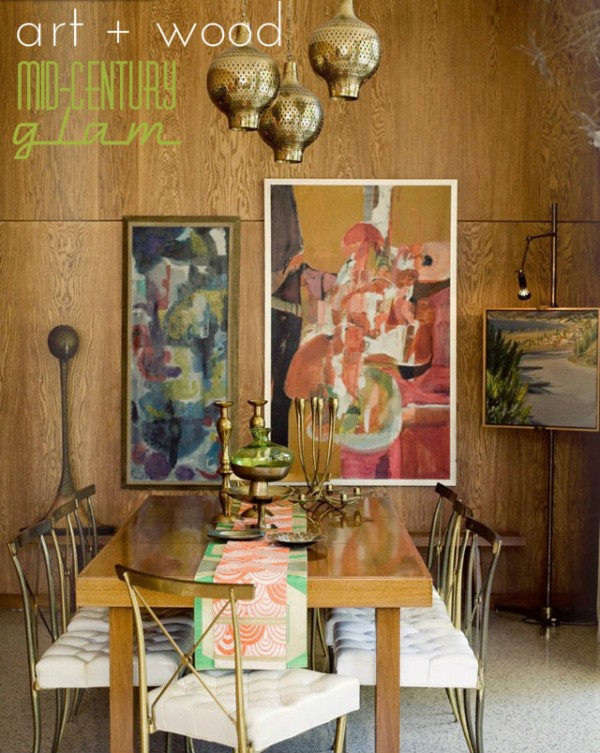 image found here
3 | cozy up to modern warmth.  Sometimes the elements we love about modern spaces, like concrete floors and soaring ceilings, can lead to a less than inviting atmosphere.  But juxtapose warmly stained wood walls against those details and it's like cozying up to a warm fire.  Artwork with lots of texture as well as pops of color and pattern add to the warming effect.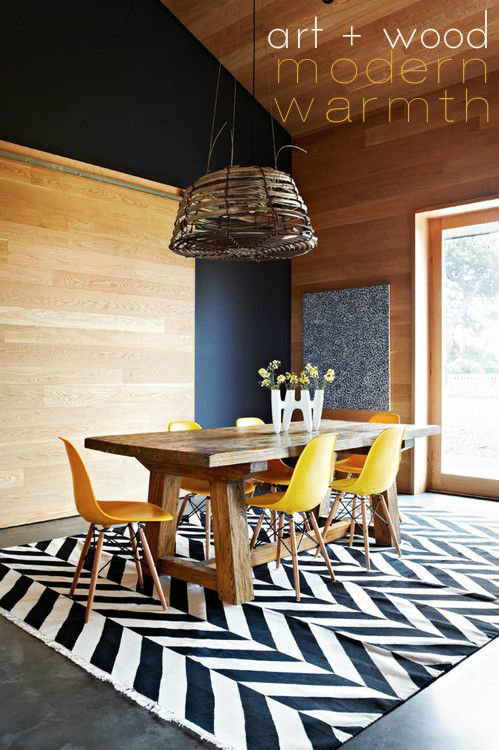 image found here
4 | elevate to rustic elegance.  Pickled wood walls can be taken in so many directions.  Their greyed-out tone makes them ultra versatile.  In Jackie Aster's NYC apartment, as featured in Elle Decor, the wood walls add just a hint of neutral texture and ground the formal finishes with just the right amount of rusticity.  A Damien Hirst etching adds a bit of playfulness turning what could have been an uptight room into space filled with snuggly joie de vivre.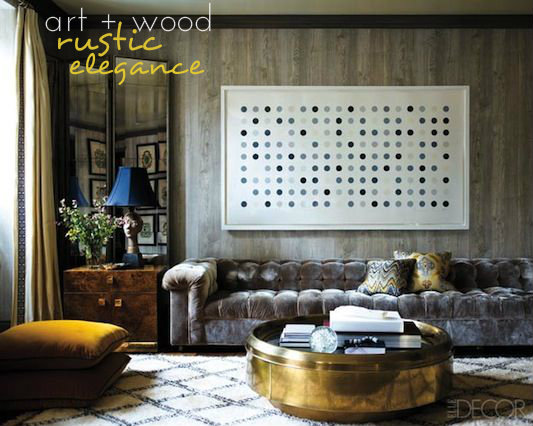 image found here
Do you live with art on wood walls?  How is it working for you?  Or maybe this inspired you to embrace that wood paneling you used to hate!  Work with the grain, not against it.

All images are linked above.  Want to see more in the Artsy Dwelling series?  Check out the archives here.