Hiya, Artsies!  Artist Candice Smith Corby recently took a group of students on a little artsy tour of Venice and is here to share her experience with you!  I'll be checking in and letting you know what's been happening in my world soon, I promise.  Without further adieu, here's Candice!
I was delighted when asked to do a guest post for the Artsy Abroad column!
Recently, my colleague, Bill Pettit, and I led a cultural and artistic tour in Venice, Italy. We've been partnering up over the last couple of years through our arts collective, The Bottega, to offer fresco painting in Italy for students, as well as collaborate on projects that revolve around our shared interest in pigment and material origins. With the sea being so influential, we decided that watercolor painting and the cuisine of the Veneto region would be ideal themes for our workshop in Venice. It was also a great opportunity for us to share what we love- art, travel and good food!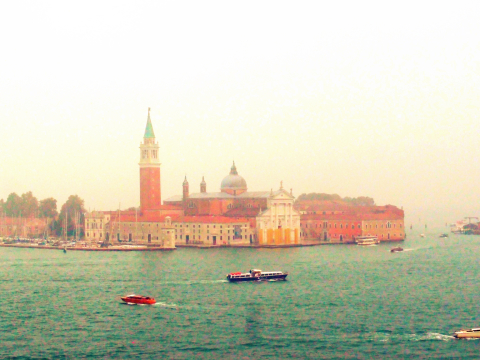 Venice or La Serenissima as it is lovingly known, is magical and undoubtedly one of the most serene cities in the world. There are no cars on the island and you quickly become accustomed to a more humane speed of life than we are normally used to. The pulse of the city, which actually feels much more like a large close-knit town, is dictated by your own heartbeat. Everyone walks, especially Venetians, and even though the Grande Canal is a highway of motorized boat traffic, the hundreds of small interlacing canals are quiet and much less travelled. The combination of silent footsteps, a slower pace, and an ancient city plan with its small-scale architecture, makes it easy to suspend time.
In addition to sampling the local flavor of Venetian dishes and expressing a particular moment through paint, we also wanted to offer an experience beyond a typical tourist's visit to Venice. Piazza San Marco was certainly on our list but the surprises found around an empty corner or the restaurant where all the gondoliers seemed to be having lunch were our favorite finds.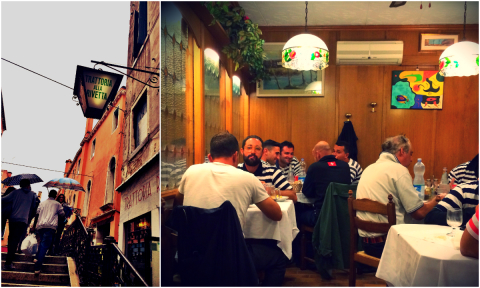 We avoided the crowds and chose canals with their small bridges to sit and paint the light as it changed across the water's surface.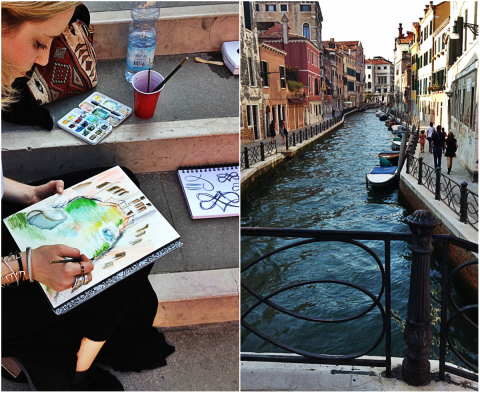 The act of observing with all of your senses while you are painting alfresco can whet your appetite and we enjoyed finding a nearby bàcari for cicchetti and a Spritz to rejuvenate ourselves. [A bàcari is a small wine bar to have cicchetti, which are little plates of yummy food.  A typical drink is the Venetian Spritz- made with prosecco and a splash of Aperol.]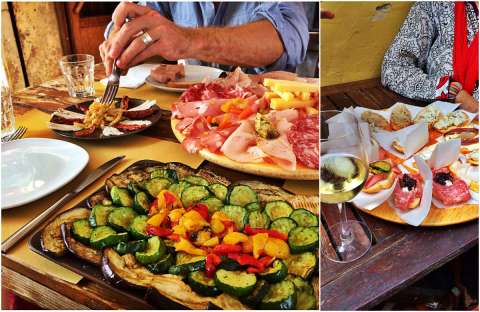 Our workshop also allowed us to share our personal research and experiments on historical pigments, which often have direct links to ingredients in the kitchen; such as the way chicken bones can be fire roasted and ground to make a bone white pigment. With the sea nearby, we chose to show how the ink sac from a cuttlefish (or seppia in Italian) has been used for Sepia ink for hundreds of years and is also commonly used as a food colorant. We spent the morning visiting and painting at the famous Rialto markets where we also gathered ingredients for a communal dinner. Later that night, Bill and I made our guests various dishes such as fried anchovies and sardines, octopus salad, and of course Risotto al Nero di Seppia.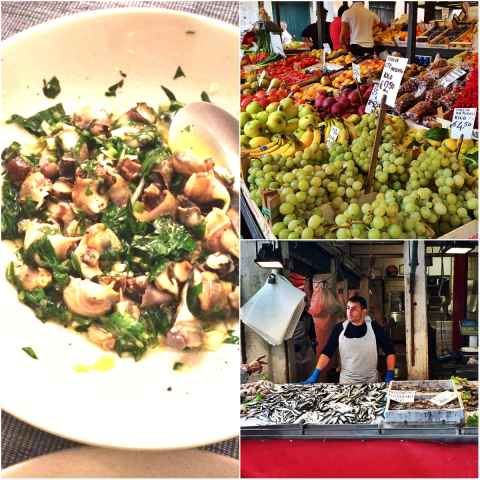 In addition, artist Luca de Gaetano who teaches at Boston University's Venice studio arts program graciously invited us to spend an afternoon talking about natural pigments including cochineal, verdigris, and saffron, while doing an egg tempera demonstration.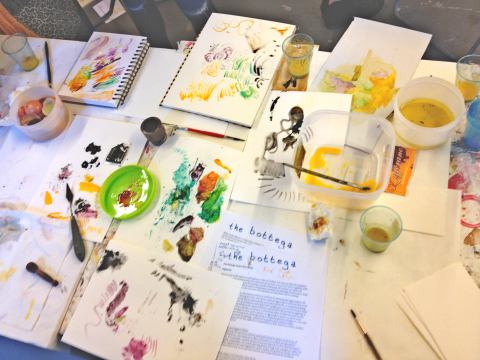 Our last day was spent visiting a couple of the other islands in the lagoon. Although we ended with Murano, famous for its glass-blowing factories, we began on quiet Torcello. The original inhabitants of Venice settled here and you will find their marvelous Cathedral of Santa Maria Assunta preserved there. It dates from the 6th century with glorious 9th century mosaics that feel oddly medieval and contemporary at the same time. As we all painted in the courtyard, each of us immersed in the pleasure of looking, we were acutely aware of the layered centuries that surrounded us.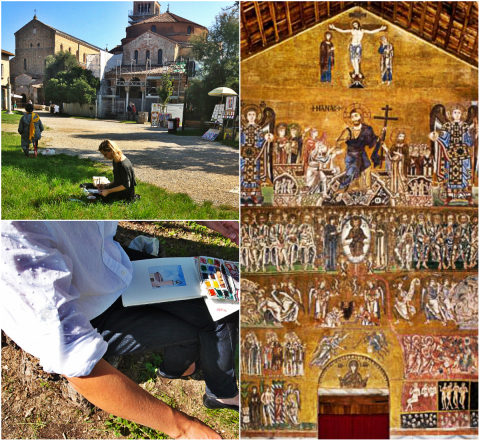 Perhaps because it was our final day together, or because the sunlight was perfectly warm, and perhaps because we all realized how lucky we were, this was the highlight of our tour.  To quote one of our participants–
"I see it as a movie, with disparate characters, a lot of philosophy, wit and humor,…culminating in Torcello, where the meaning of life, destiny, faith, and human interaction at its best was evident in our conversation, silent and vocal communication. What a gift!"
While next year the world famous Biennale will be part of our itinerary, we'll continue to take you off the beaten track, letting the magic of Venice slow you down to paint a sunrise over the lagoon, listen to un-ending church bells, and discover your own newfound delicacy from the sea.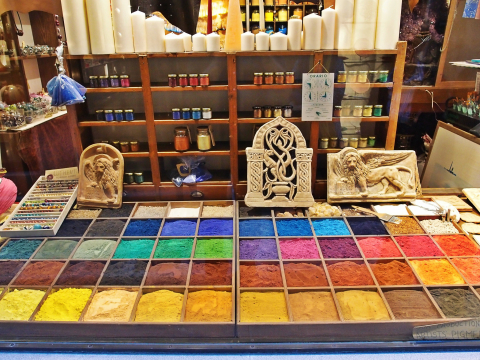 Thank you so much, Candice for sharing your Venetian experience!  I don't know about you, Artsies, but I'm ready to book my 2015 trip this minute!  For more information on The Bottega and next year's trip, check out The Bottega website and look for updates on their Facebook page.
Images courtesy of The Bottega and Emily Cure.